Visit our Home Theater Showroom! We love giving demonstrations so stop in to see us today. Or call us at (330) 405-9393.
​

Ever wanted to locate or track your vehicle? Learn more about DroneMobile»
​

​
Things can get messy, but your car doesn't have to. Call us to order your WeatherTech floor protection today at
(330)405-9393.
​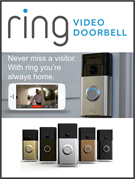 ​
Never miss a visitor. With ring you're always home. Give yourself the gift of peace of mind this year with a Ring Video Doorbell.

Start your vehicle to warm it up from a distance in the comfort of your home or office before getting in. There are many options
to choose from. Call for more details today.
​

Window tint for your vehicle, home or commercial property. Expert installation. Computer cut precision for your vehicle. Quality American made films.
​

The MRX-8 controller is the ideal way to make the move to adding simple yet powerful automation to your home or office. Free iOS and Android Apps. Call and ask Roger for more details at (330)405-9393 or (330)329-5197. More information>
​