Proudly Celebrating Our 24 Year Anniversary!
​
It is hard to believe that this year in July we celebrate 24 years in business. We opened our doors in 1997 in Peninsula, Ohio, and moved to our current location in Twinsburg in 2003. Please visit our Contact link for our address, fax, and phone number.
​
At Summit we provide professional sales and custom installations of electronic and restyling products for your car, truck, suv, rv, boat, home, or office. We have experience, coupled with a wide variety of brand name products that you have grown to trust.
​
Early in 2020 we were awarded the 2019 Alpine Electronics of America Dealer of the Year! We are proud to say this was our second time for this honor. We also received this award back in 2016.
​
Over the years we expanded into the exciting world of home theater. It didn't stop there. With our vast experience we completed AV projects not only for homes, but also for businesses, schools, churches, country clubs and restaurants all over North East Ohio. We are a Master Universal Control Dealer, and certified as a Lutron Pro Residential Contractor.
​
We are one of the only computer cut window film installers in the area. We are trained on window tint, paint protection, and rain repellent installation by Llumar. They are a world leader in the manufacture and distribution of American made professional grade solar control, safety, and security window film products.
​
​
We are a proud member of the International Window Film Association. Visit their website to learn more about window tint.
​
​
​

We are a Certified Lutron Pro Residential Contractor. To learn more visit Lutron >
​
​
​

We are a Master Universal Remote Control Dealer. To learn more visit URC >
​
​
​
​
We are also registered with the Ohio Board of Motor Vehicle Repair. You may visit this agency at their web site
​
​
​
We were honored by Alpine USA! Only select U.S. Alpine retailers are recgonized as Flagship Retail Specialists. Alpine states, "These are the Best of the Best retailers commited to giving you the ultimate Alpine experience." In addition, we received the Alpine Dealer of the Year Award for 2016 and 2019.
​
​
We received letters and emails from some of our valued customers. Please read what they said about their experience with us. read more >
​
​
​

Like us on Facebook. VIsit our page to see pictures, videos, new projects and promotions.
​
​
​
​
​
​
​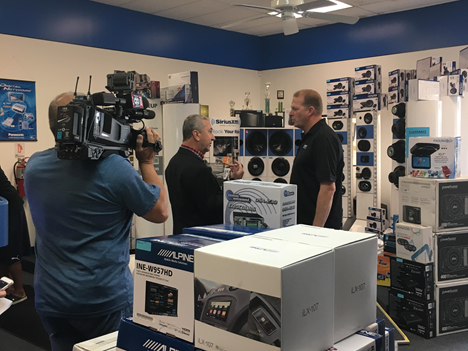 ​
New Day Cleveland was filmed at Summit. Roger was interviewed, and you can see inside our store. Follow the link below:
​