Custom Look And Comfort
​
Automotive window tint is a great way to improve the look and comfort of your vehicle. In addition to giving your vehicle a custom look, window tinting has practical benefits also. Window tint protects your investment by shielding you and your car's interior from the sun's heat and damaging ultraviolet effects.
​
Our window film is manufactured in America, and is backed with one of the strongest warranty programs in the industry, providing up to lifetime coverage on select applications. Our automotive films are scratch resistant and guaranteed not to bubble, peel or crack. Films are available in a variety of colors and shades with different light transmission levels.
​
Public Notice Regarding Tint Laws
​
​
​
With The ComputerCut System Application Is Precise
​
The ComputerCut image database contains over 1,500 vehicle specific window film patterns, 500 paint protection film patterns and 1,200 etched glass art images - with new patterns being added all the time.
​
Stop by our showroom today and see why our automotive window films are the right choice for your vehicle.
​
​
Visit our image gallery to see examples of our work.
​
Important Window Tint Tip
​
Before coming in for your tint appointment make sure that you thoroughly clean your vehicle to reduce the dust and dirt.
​
FAQ
​
We are proud members of the International Window Film Association. If you are interested in getting your windows tinted, visit the IWFA window tinting information center. This site contains the answers to many frequently asked questions and automotive tint laws for each state.
​
If you would like a free estimate call (330) 405-9393.
​
​
See what one of our valued customers emailed us...
​
Subject: Great Service - Very Happy Customer
​
Dear Roger,
​
I recently had window tinting applied to my windows and windshield on my car. I fell on ice in the winter of 2015 and injured my brain. As a result of this injury I have photophobia/visual discomfort. I experience headaches and migraines from the sun and flourescent lighting. My ophthalmologist suggested window tinting and provided a medical exemption.
​
I began looking for a business that may have experience with this type of issue. I found your website and I was intrigued. You are the only one who even mentioned helping anyone with a medical condition.
​
Your staff is very knowledgeable, friendly and willling to answer all questions. I had my side and rear windows completed on one day and came back to have the windshield done. The tinting has made a huge difference. Driving is much easier now. Glare or headlights are no longer problems.
​
I have told everyone how pleased I was with the service and cost. You should be very proud of your staff. They are amazing!
​
Plus my 2014 black Altima looks really cool now!
​
Very happy customer!
​
Evelyn B.
​
​
---
​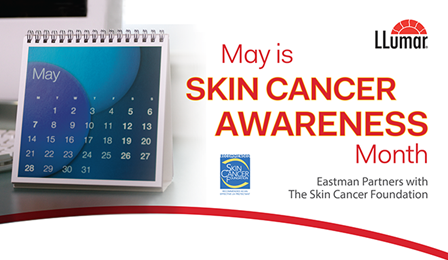 The Skin Cancer Foundation provides a valuable third party endorsement and recommends window film as part of a complete sun protection regimen. Most people dont realize that harmful uv rays from the sun penetrate car windows. Melonoma kills 9,000 people annually. Read More>
​